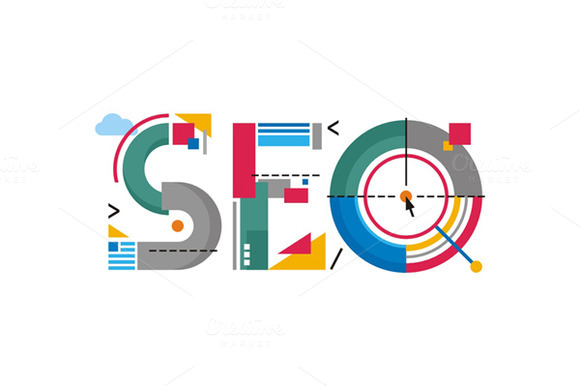 (Creative Market, 2016)
SEO (Search Engine Optimization) is one of the most used tools in online marketing. SEO is free to use and is a very good way to improve your page rank on organic search results. The biggest difference with SEA (Search Engine Advertising) is that SEO is free and SEA isn't. And other difference is that SEO takes a lot longer to see any results in comparison with SEO.
So what free tools do you have as a company to boost your traffic on your website?
Google Analytics
Google Analytics is the most important free tool for companies to boost their page rank on organic search results. Google Analytics offers you a lot of tools not only to improve search results, but also to measure the traffic on your website. This gives you a proper insight in your website its traffic. Google not only offers you Analytics for free. Google Trends and the Google Web Tools are two other good programmes that can help you to improve your SEO (Edwards, 2013).
Google Trends
So what exactly is Google Trends? Google offers you an insight into real-time search data from customers (365 E-commerce, 2015). You can see how competitors perform and if there is any certain trend going on in organic search results. Just another handy tool that may give just that advantage over your competitor.
Google Keyword Planner
Google Keyword Planner can help you a lot to add some keywords to your website. This is actually a SEA tool, but it can be perfectly used for SEO (Bandremer, 2015). Google gives you insights how many people have searched a certain word. This is not an exact number. For example, the word 'Bike' has been searched between 100.000 – 1.000.000 times. This can give you a good insight if your company is doing a good job in SEO.
Übersuggest
Enough about Google now. There are also a lot of other tools that can help you to improve you SEO strategy. Think of Übersuggest (Clark, 2016), which is a free platform to help you to figure out good keywords for your website. You can type in any word and Übersuggest will automatically give you a lot of options for your website. Very handy and it can help your website a lot!
Outdated Content Finder
Not only keywords are important for your website. Your content should also be optimized in order to improve your page rankings. To give you a hand to improve this, there is the program Outdated Content Finder (Greenlane SEO, 2016). This program helps you to refresh and update content on your website that had good link and social metrics. This program can help you to get your website to a high position in the search rankings.
Patience
You can use every program listed here to improve SEO of your website. But one thing is very important to remember! Have patience. SEO is a very interesting but time consuming thing to do. Don't expect quick results. SEO is a long-term strategy and it can give your company a lot of new traffic on your website in the long-term. So be patient people!
 Ask Your Customers!
Your customers are also an important source to improve SEO results. You can organise a questionnaire or check the search terms in Google Analytics. Current customers can give you an insight in their customer journey. Results might be that they can give you added information like new keywords.
There are a lot of free tools out there to improve the page rankings of your website. All you got to do is to start!
Bibliography:
365 E-commerce. (2015, Ocotber 15). E-commerce trends. Retrieved from 365-e: http://www.365-e.com/e-commerce-trends/
Bandremer, R. (2015, June 8). 15 Most important SEO tools . Retrieved from Lune Metrics : http://www.lunametrics.com/blog/2015/06/08/my-15-favorite-free-seo-tools/
Clark, A. (2016, September 1). 6 essential SEO Tools for 2016. Retrieved from smart insights: http://www.smartinsights.com/search-engine-optimisation-seo/seo-analytics/what-are-the-best-seo-tools-in-2016/
Creative Market. (2016). SEO World Logo. Retrieved from Creative Market : https://creativemarket.com/serkorkin/30409-SEO-Word-Logo-Sign
Edwards, V. (2013, April 04). 13 essential SEO Power tools. Retrieved from Search Engine Watch: https://searchenginewatch.com/sew/how-to/2199683/essential-paid-search-power-tools
Greenlane SEO. (2016). Outdated Content Finder. Retrieved from GreenLane SEO: http://www.greenlaneseo.com/outdated-content-finder/